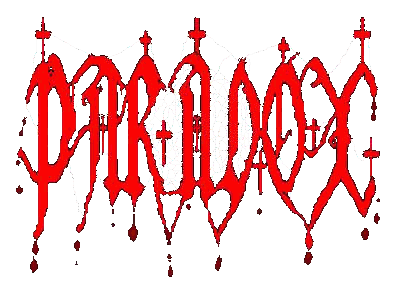 LYRICS FOR 'THE OUTCASTS' DEMO TAPE, 1997
PRAYER OF SUFFERING
O Lord, donít punish me in your anger, You have wounded me, I am in great pain. My whole body, it is nearly all diseased, About to drown in a flood of my sins. Because I have been foolish my sores they stink and rot, Near to the end, my troubled heart does groan with pain. I am burning up with fever, I am near to death, Worn out and dead, I am crushed, I mourn all day long.
Iím about to fall, But I trust in you, Why do they hate me? Iím in constant pain, I confess my sins, My God answer me!
Hear my prayer, O Lord and listen to my cry, Come to my aid when I weep, I need you now, Leave me alone so that I can get some peace, Before I will go away, and am no more!

FREEDOM
You are all now being deceived, By the one who hates your soul. He wants you to burn and suffer, Everlasting pain in hell. There is only one path to God, It is full of many snares. If you give your life to Jesus, His spirit will guide you there.
The Lord Jesus, he can break the snare of death coz he is the king, The Lord Jesus, he can free you, he can cleanse you, he does love you, The Lord Jesus, he does cleanse me, he does love me, I am free!
O my God now, what have I done here, Through my actions I have rebuked you. I do not deserve to be pardoned, But through your grace I am forgiven.
Thankyou Jesus, for dying for me, Without your love I would be empty.I do give you my life to take now,To proclaim your word to the nations.

INCARNATE DEITY
Emmanuel, thou Day - Spring Bright, Key of David, Come Adonai. You let them take your body and nail to a tree...
Living people with long dead minds, There is no light reaching their souls. Spiritual death, loss of all hope, Constant sinning, hardening hearts. They reject the only true God, Sealing their fate-eternal hell...
I am coming, like a robber, be on your guard, I will return, Give me your life, I will save you, I have the keys to Death and Hell
Broken, lonely, looking for help, They are searching the wrong places. Short-lived answers only numb you, Pain and despair round the corner. Cast your eyes upon the true God- His solutions are eternal...
I am coming, like a robber, be on your guard, I will return, Give me your life, I will save you, I have the keys to Death and Hell
Then Jesus came down, from Heaven above, to this ruined world, to die for us We shall live life in its fullness, No more crying, no, no more pain, With Gods forgiveness weíll rise again!!!
This world leaves you disappointed, They chew you up and spit you out, This life it is just a testing, For the one that is yet to come...
---